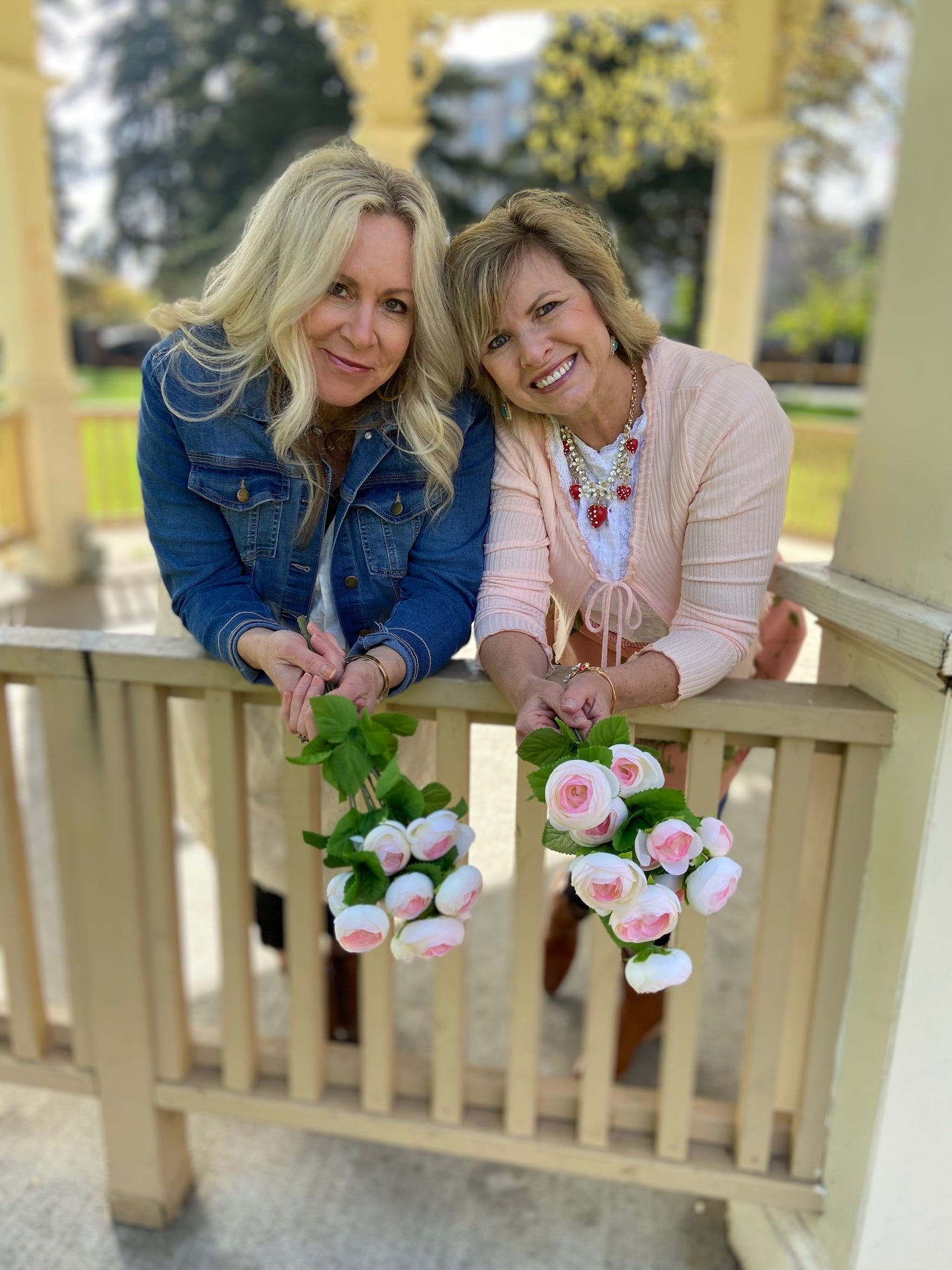 jina and lori
Poppie Cotton is all about beautiful fabric and lovely goods. It is not by chance that Lori Woods and Jina Barney's paths have crossed. Together they share their passion and joy that come from creating and loving beautiful art and nature.
Lori loves to doodle, draw, fill sketch books, design, paint, craft, and pretty much do anything creative. She is a momma to two beautiful daughters and has the cutest grandchildren in the world! She is married to her best friend, Patrick, who supports us in this crazy business. She lives in Washington and likes to fish for Salmon on the beautiful Columbia River. She is a freelance artist and designer specializing in licensing for the past 30+ years.
Jina loves to garden, read, cook, craft, sew and make her home a beautiful place to live. She has been sewing since she was a little girl and quilting for 30+ years. Her love of the arts has taken her around the world teaching and sharing her knowledge. Her attention to detail has earned her a reputation among friends for her fine hand-crafted items. She has been published in various magazines and books. She teaches techniques and projects on You Tube. She recently moved from Utah to Florida with her husband, who is her greatest support and cheerleader. Her absolute joy is her 7 granddaughters and 4 children!
Together Jina and Lori have designed and branded Poppie Cotton to share with the world their love of all things beautiful. Follow along as they share their journey by showcasing new products and inspire you to create something out of the ordinary into something extraordinary!
patrick
Patrick keeps it fun around here, with his positive personality and energy. He is our comic relief and our biggest cheerleader. He's always good for a funny "dad" joke and is a fierce competitor in our silly competitions. He is our shipping team leader and a total numbers guy, and the captain of our sales and distributors. Patrick keeps us all focused on what's important as well as lifting our spirits. In his spare time, he loves to fish, hunt moles, and sing to the deer. He is "ten fingers of Doom" on the guitar and always has a song ready to play to the kids that flock around him. He is every quilters best friend and talks "fabric" like a pro. He is the boldest stitch in our quilt and we love him!